Home Insteading With Cooperative Extension (Week 4)
Find this article at:
go.ncsu.edu/readext?677029
N.C. Cooperative Extension of Chowan County is sharing a new series called Home-Insteading. We're focusing on educational topics that encourage at-home learning and hands-on activity. For more information about our local program and how to connect, visit the Chowan County website.
4-H AT HOME – Making Homemade Butter
Camaryn Byrum, Chowan County 4-H Agent
Chowan County 4-H STEM Challenge
Have some free time at home? Try out this engaging and educational 4-H STEM activity. To participate: Complete the STEM experiment/activity below. Email Camaryn Byrum a picture of you completing the given task. A $5 credit will be applied toward any Chowan County 4-H program you plan to attend. A new challenge will be published each week in the newspaper. Camaryn Byrum can be reached at cibyrum@ncsu.edu.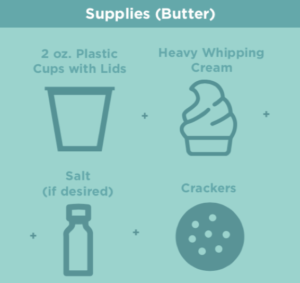 Supplies Needed
2 oz. plastic cup with lid or Tupperware container with lid
Heavy Whipping Cream
Salt
Crackers
Directions
Fill the 2 oz. plastic cup or container about 2/3 full of heavy whipping cream
Place the lid on the container
Shake the container for 7-10 minutes, until solid butter is formed
Drain the remaining liquid (buttermilk) and add salt (if desired)
Spread the butter on crackers and enjoy!
FAMILY & CONSUMER SCIENCE AT HOME – To Clean or Not to Clean?
Mary Morris, Chowan County Family & Consumer Science Agent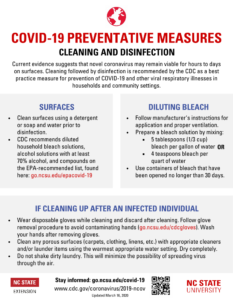 There is a lot of information out about what you should be cleaning to avoid transfer of the Coronavirus. When you go out and when you stay home there are some "common touchpoints" to make sure to clean and disinfectant daily.
Include fruits and vegetables on your grocery list. Yes, it's still safe to buy. According NC State Extension Food Safety Team research shows produce shows no significant risk to transmitting COVID-19. Follow these recommendations:
Make sure if you have to go into the store to wear gloves and a mask while shopping. Also wipe down the cart handle with sanitizer (the store has been providing). Get in and out and be sure to wash your hands a lot.
What about at home? Wipe down "common touchpoints" doorknobs, countertops, cabinet handles, toilet handles, faucets anywhere that is touched by everyone in the house.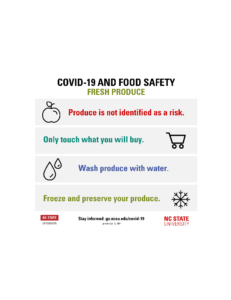 Since there are very limited cleaning products left in the stores here are some tips on making your own disinfectant that you can spray on surfaces and leave to dry.
The Chowan County Extension Community Association (Extension Homemakers) are working on Sewing Face Mask for our community. If you would like to participate call or email Mary Morris for more information 252-482-6585 / mary_morris@ncsu.edu. Starting Monday, April 13, 2020, there will be a donation box available at the Chowan County office, 730 N. Granville St. Edenton NC 27932 (paved side) if you would like to participate. Instructions available if needed. For more information log on to the Chowan County website.
HORTICULTURE AT HOME – Gardening by Mail
Katy Shook, Area Horticulture Agent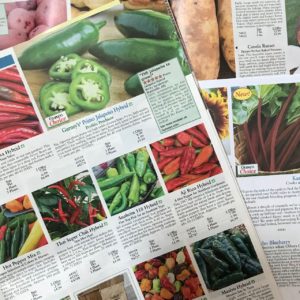 If you're unable to visit local garden centers, you may be considering gardening by mail. With thousands of sources, ordering plants online and through mailorder catalogs is a popular trend. Ensure success with these tips:
Remember, looks can be deceiving. Colorful and polished pictures may not accurately reflect the true characteristics of the plant. Compare features using our NC State Extension Plant Database.
Watch out for bargain prices and scams. If it sounds too good to be true, it probably is.
Make sure the selection is suitable for our growing zone. We are in Zone 8A.
Double-check the delivery date. Some plants may only be shipped at certain times of year.
Beware of companies with no customer service number. Contact the company if there are questions or concerns about the ordering process.
Keep a record of purchases. Keep copies of all order forms and if ordering by phone, get an order number. This will help facilitate any communications with the company.
Understand the company's guarantee policy. Usually there is a cut-off date by which a company must be notified of problems or plant failures.
Inspect material upon arrival and be prepared to install and provide care. Growing requirements still apply; right plant, right place.
For more information on gardening by mail, contact Area Horticulture Agent Katy Shook at katy_shook@ncsu.edu or (252) 482-6585.