Home Insteading With Cooperative Extension (Week 6)
Find this article at:
go.ncsu.edu/readext?685550
N.C. Cooperative Extension of Chowan County is sharing a new series called Home-Insteading. We're focusing on educational topics that encourage at-home learning and hands-on activity. For more information about our local program and how to connect, visit our website.
---
4-H AT HOME
Camaryn Byrum, Chowan County 4-H Agent
How Much Water Do You Need? Stay Hydrated!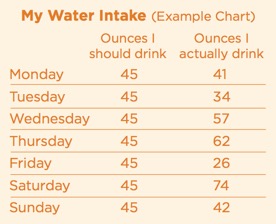 Supplies Needed
Paper
Pen, pencil or markers
Directions
Find out how much water you need each day by dividing your body weight in half. This number is equal to how many ounces of water you should drink every day.
Create a chart like the example. Column one shows how many ounces you should drink each day. Column 2 shows how many ounces you actually drink.
Keep track of your water intake for the next week using this chart.
Share the results with your family and challenge them to track their own water intake!
Reflection (discuss these questions with a parent, guardian, or sibling):
How many ounces should you drink in a week?
How many total ounces did you drink in one week?
Did you meet your water intake goal?
---
FAMILY & CONSUMER SCIENCE AT HOME
Mary Morris, Chowan County Family & Consumer Science Agent
Canning Anyone?

Canning food is a safe way that you can preserve food at home if done right. Did you know that the Chowan County Cooperative Extension offers canning classes in the spring and summer yearly. During this Covid-19 Pandemic many people are turning to doing things at home including growing gardens. If you are one of those people you can get tested recipes, food safety lessons and best practices for preserving your food from Chowan County Cooperative Extension.
The basics of canning are the Hot Water Bath method or the Pressure Canning method. Both of these techniques are used for two different reasons. The Hot Water Bath method is used for many high acid foods (jams, jellies, preserves, pickles). The Pressure Canning method is used for low acid foods (green beans, tomatoes, corn) pretty much all vegetables and meat. When thinking about canning it is recommended that you use a tested recipe. You want to get the safest, best product for all of your hard work.
I'm not sure what the summer will bring as far as face to face classes but if you are interested in learning more about canning the safest way possible please contact Mary Morris, mary_morris@ncsu.edu or call 252-482-6585. All equipment that you will need can be easily purchased online or at local stores. We also have a Pressure Canner Tester if you have a hand me down canner that you are unsure about. Here is a freezer jam recipe that you can start with if you want to try food preservation. Check out our website for more information on canning.
Freezer Berry Jam with powdered pectin
2 cups crushed strawberries or blackberries (about 1 quart berries)
4 cups sugar
1 package powdered pectin
1 cup water
Yield: About 5 or 6 half-pint jars
Please read Using Boiling Water Canners before beginning. If this is your first time canning, it is recommended that you read Principles of Home Canning.
Procedure: Sterilize canning jars and prepare two-piece canning lids according to manufacturer's directions.
To prepare fruit. Sort and wash fully ripe berries. Drain. Remove caps and stem; crush berries.
To make jam. Place prepared berries in a large mixing bowl. Add sugar, mix well, and let stand for 20 minutes, stirring occasionally. Dissolve pectin in water and boil for 1 minute. Add pectin solution to berry-and-sugar mixture; stir for 2 minutes.
Pour jam into freezer containers or canning jars, leaving ½ inch headspace at the top. Close covers on containers and let stand at room temperature for 24 hours.
To store. Store uncooked jams in refrigerator or freezer. They can be held up to 3 weeks in the refrigerator or up to a year in a freezer. Once a container is opened, jam should be stored in the refrigerator and used within a few days. If kept at room temperature they will mold or ferment in a short time.
Source: Uncooked_Berry_Jam_Powder
Picture source: All Free Download
---
HORTICULTURE AT HOME
Katy Shook, Area Horticulture Agent
Food Safety In the Home Garden
Make sure you're getting the best benefits of a home garden by keeping the following food safety tips in mind:
Site the garden in a safe spot. Consider prior site use and avoid areas that may flood easily.
Always follow fertilizer and pesticide labels. This applies to both conventional and organic products. Wear appropriate personal protective equipment, and store materials carefully.
Wash hands with soap and water before and after working in the garden. This is the best way to reduce the number of potentially harmful microorganisms. You can also use disposable single-use gloves.
For irrigation, use a regulated, treated water source, or have the water tested to ensure it meets drinking water standards.
Manage compost with food safety in mind. Locate compost bins downhill and as far from the garden as possible.
Avoid using manure or fertilizers made with sewage sludge or bio-solids.
Keep animals out with fencing. Animals can also be discouraged by keeping the garden clean and free of weeds and trash, and harvesting regularly.
Sanitize tools and harvesting equipment.
For more information on food safety in the garden, contact Area Horticulture Agent Katy Shook at (252) 482-6585.