Home Insteading With Cooperative Extension (Week 18)
Find this article at:
go.ncsu.edu/readext?712602
en Español

El inglés es el idioma de control de esta página. En la medida en que haya algún conflicto entre la traducción al inglés y la traducción, el inglés prevalece.

Al hacer clic en el enlace de traducción se activa un servicio de traducción gratuito para convertir la página al español. Al igual que con cualquier traducción por Internet, la conversión no es sensible al contexto y puede que no traduzca el texto en su significado original. NC State Extension no garantiza la exactitud del texto traducido. Por favor, tenga en cuenta que algunas aplicaciones y/o servicios pueden no funcionar como se espera cuando se traducen.

English is the controlling language of this page. To the extent there is any conflict between the English text and the translation, English controls.

Clicking on the translation link activates a free translation service to convert the page to Spanish. As with any Internet translation, the conversion is not context-sensitive and may not translate the text to its original meaning. NC State Extension does not guarantee the accuracy of the translated text. Please note that some applications and/or services may not function as expected when translated.

Collapse ▲
4-H at Home
Camaryn Byrum, 4-H Agent 
Let's Get Peachy
July is peak peach season here in North Carolina. To find fresh peaches nearby, visit the Edenton Farmers Market, local produce stands, or Copeland's Peaches (1429 County Line Road, Belvidere, NC 27919). To celebrate this sweet and juicy fruit, here are a few best peach practices from the NC Peach Growers Society and the N.C. Department of Agriculture and Consumer Services:
The Best Way to Pick a Peach: Handle fruit carefully because peaches bruise very easily.
 The Best Way to Select a Peach: Look for peaches with a creamy to gold under color that best indicates ripeness. Two other indicators of ripeness are a well-defined crease and a good fragrance.
 The Best Way to Store a Peach: Peaches should be held at 32-35°F in high humidity. Fully ripened peaches should be refrigerated immediately and kept there until ready for consumption.
 The Best Way to Ripen a Peach: Room temperature of 65-70°F is best for mature peaches. Remember, once a mature peach begins to ripen, it never stops; but you can slow the rate of ripening by storing it in low temperatures.
 The Best Way to Prepare a Peach: Wash peaches gently, peel, and remove pits. Handle carefully to avoid bruising.
Easy Peach Fruit Smoothie
Ingredients
5 ounces of vanilla yogurt
1 ½ cup fresh peaches
½ cup crushed ice
¾ cup coconut milk
¼ teaspoon ground cinnamon
½ teaspoon sugar
Directions
Combine all ingredients in a blender. Blend until smooth. Enjoy!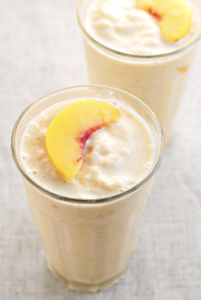 ---
Family and Consumer Sciences
Mary Morris, Family and Consumer Sciences Agent 
Celebrate with Safe Salsa
Salsa is one of the most popular condiments used in the United States. Because it is such a popular condiment and party food, many consumers experiment with making and canning their own salsa. If a salsa recipe is not properly prepared and processed, however, it could be unsafe to eat. Here are some important guidelines for preparing home-canned salsa that's safe.
What are the safety concerns?
Most salsa recipes combine onions, peppers, and tomatoes with acetic acid, in the form of either vinegar or lemon juice. The amount of acid is critical to the salsa's safety. A proper amount of acid will reduce the pH, which is a measure of how acid a food is. For safe salsa, the pH of the vegetable ingredients should be less than 4.6.
Foods with a pH less than or equal to 4.6 are labeled "high-acid" foods. Those with a pH greater than 4.6 are "low- acid." This distinction is very important because only high-acid foods can be processed safely in a boiling water bath. Low-acid foods must always be processed in a pressure canner; if not, they can support the growth of the potentially harmful bacterium, Clostridium botulinum.
That's why it's important to use only tested recipes when canning your own salsa. Food scientists have evaluated a tested recipe to ensure that the amount of acetic acid in combination with the other ingredients will sufficiently reduce the mixture's pH so that it can be safely processed in a boiling water bath. The processing times also have been tested to ensure that harmful microorganisms are destroyed. Nine tested recipes for safe salsa are included at the end of this bulletin.
What types of acids can I use to make my salsa safe?
When canning salsa use only bottled lemon juice or vinegar that is at least 5 percent acetic acid (acidity). Never use homemade vinegar or freshly squeezed lemon juice because the level of acid present is not known.
Bottled lemon juice tends to be more acidic than vinegar. It also has less effect on the overall flavor of the product in which it is used. Equal amounts of bottled lemon juice can be substituted for vinegar in recipes calling for vinegar. Vinegar, however, should not be used when a recipe calls for lemon juice.
What type of vinegar can I use to make salsa?
Any type of vinegar can be used as long as the product label states that it is at least 5 percent acidity. If this is not stated on the label, do not use the vinegar for canning or pickling. White vinegar has a tart flavor but will not discolor the
salsa. Cider vinegar, on the other hand, has a milder flavor but tends to change the salsa's color. Balsamic and other seasoned vinegars are more expensive than white or cider vinegar, but they are safe to use. Because the acidity of homemade vinegar is often unknown, do not use it to can salsa.
Can I change the amount of ingredients in my salsa recipe?
No. The only modifications that you can make safely in a salsa recipe are the amounts of spices used. Changing any other ingredient or amount could lead to an unsafe product. It is safe to double or halve a recipe.
Can salsa that contains no bottled and labeled vinegar or lemon juice be safely canned?
No. These types of salsa should be eaten immediately or stored in the refrigerator for up to one week.
Can I thicken my salsa recipe?
No. Adding a thickening agent makes it more difficult to adequately heat the center of the salsa to destroy harmful microorganisms, so the processing time must be increased. Because processing times are thoroughly tested in a laboratory setting, one cannot simply add to the processing time stated in a tested recipe to compensate for changes made to the recipe. If thicker salsa is desired, add cornstarch or other thickeners after opening. Remember to refrigerate all opened jars of salsa.
Can I add sugar to sour salsa?
Yes. Sugar can safely be added to a salsa recipe. Sugar
is often added to offset the tartness of the vinegar. But you should never alter the amount of vinegar. Vinegar is essential to making the salsa acidic enough. Remember, properly acidified salsa can be safely canned; improperly acidified salsa cannot.
Where should I store my home-canned salsa?
Store home-canned salsa in a clean, dry, dark area. Exposure to prolonged light can affect its color, making it look less appetizing. The temperature of the storage area should
be between 50°F and 70°F. As a rule of thumb, the higher the storage temperature, the shorter the shelf life of the product. Do not store in areas where pipes are located. Pipes can leak and contaminate the food. Be sure to label foods with the canning date so they will be used before the quality of the product erodes due to storage.
How long can I keep home-canned salsa?
If canned and stored properly, its shelf life is about 12 to 18 months. Salsa older than this is safe to eat if the jar is in good condition and the seal is still intact. Its quality, however, may be poor.
Why do I need to increase my processing time when I live at a higher altitude?
The processing time is the amount of time required to kill microorganisms. Because atmospheric pressure is lower at altitudes higher than 1,000 feet above sea level, water boils at a lower temperature at higher elevations. To ensure that microorganisms are killed, you must process food mixtures for a longer time. Contact your local Cooperative Extension center for more information about safely processing home-canned foods at higher altitudes.
Where do I get safe recipes?
The North Carolina Cooperative Extension provides only tested recipes. To determine if your recipe is safe, contact Mary Morris, Chowan County FCS Agent 252-482-6585 or email mary_morris@ncsu.edu. The recipe in this article has been tested and proven to be safe for home canning. And to stay safe while making salsa, you should never touch your face while handling chili peppers. They contain capsaicin, a compound that produces the burning sensation many salsa lovers enjoy. If chili pepper juice gets on your face or in your eyes, it can be extremely irritating. Wear rubber gloves and keep your hands away from your face while handling chilies. Or if you prefer not to wear gloves, always wash your hands thoroughly with soap and water before touching your face.
Peach Apple Salsa
Yield: About 7 pint jars
Ingredients
6 cups (2  and 1⁄4 pounds) chopped Roma tomatoes (about 3 pounds of unchopped tomatoes) 2 and 1⁄2 cups diced yellow onions (about 1 pound or 2 large onions)
2 cups chopped green bell peppers (about 1 and a half large peppers)
10 cups (3 and a half pounds) chopped hard, unripe peaches (about 9 medium peaches or 4 and a half pounds of unchopped peaches)
2 cups chopped Granny Smith apples (about 2 large apples) 4 tablespoons mixed pickling spice
1 tablespoon canning salt
2 teaspoons crushed red pepper flakes
3 and 3⁄4 cups (1 and1⁄4 pound) packed light brown sugar
2 and1⁄4 cups cider vinegar (5 percent acidity)
Directions
Wash and rinse pint canning jars; keep hot until ready to use. Prepare lids according to manufacturer's directions. Place pickling spice on a clean, double-layered, 6- inch-square piece of 100 percent cotton cheesecloth. Bring corners together and tie with a clean string. (Or use a purchased muslin spice bag).
Wash and peel tomatoes (place washed tomatoes in boiling water for 1 minute, immediately place in cold water, and slip off skins). Chop into 1⁄2-inch pieces. Peel, wash and dice onions into 1⁄4-inch pieces. Wash, core, and seed bell peppers; chop into 1⁄4-inch pieces. Combine chopped tomatoes, onions, and peppers in an 8- or 10-quart Dutch oven or saucepot. Wash, peel and pit peaches; cut into halves and soak for 10 minutes in an ascorbic acid solution (1,500 milligrams in 1⁄2-gallon water). Wash, peel and core apples; cut into halves and soak for 10 minutes in ascorbic acid solution. Quickly chop peaches and apples into 1⁄2-inch cubes to prevent browning. Add chopped peaches and apples to the saucepot with the vegetables.
Add the pickling spice bag to the saucepot; stir in the salt, red pepper flakes, brown sugar and vinegar. Bring to boiling, stirring gently to mix ingredients. Reduce heat and simmer 30 minutes, stirring occasionally. Remove spice bag from pan and discard. With a slotted spoon, fill salsa solids into hot, clean pint jars, leaving 11⁄4-inch headspace (about 3⁄4 pound solids in each jar). Cover with cooking liquid, leaving 1⁄2-inch headspace. Remove air bubbles and adjust headspace if needed. Wipe rims of jars with a dampened, clean paper towel; apply two-piece metal canning lids. Process in a boiling water bath: 15 minutes at 0 to 1,000 feet; 20 minutes at 1,001 to 6,000 feet; and 25 minutes above 6,000 feet. Let cool, undisturbed, for 12-24 hours, and check for seals.
Serving Suggestion: Serve as a side with or spooned on top of grilled pork chops or any grilled meat.
Source: Adapted from a recipe by Elizabeth A. Andress, University of Georgia, Cooperative Extension Service, and the National Center for Home Food Preservation. This recipe is based upon work supported by the Cooperative State Research, Education, and Extension Service, U.S. Department of Agriculture, under Agreement No. 00-51110-9762.
Prepared by Angela Fraser, Ph.D., Associate Professor and Food Safety Education Specialist, North Carolina State University.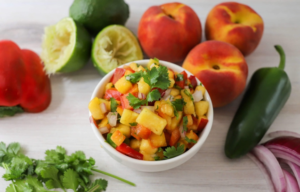 ---
Horticulture at Home 
Katy Shook, Area Horticulture Agent
Diagnosing Problems in the Garden
Did you know? Insects and diseases rarely attack healthy plant tissue. Often a plant has been stressed by abiotic or cultural factors before insects and diseases move in. However, when a gardener finally notices that a plant is suffering, the pests and pathogens are easy to spot and are wrongly blamed for the entire problem.
Abiotic, or non-living, factors that can affect a plant include: sunlight, temperature, wind, and precipitation. Too much sunlight can burn plant tissue while too little can prevent the plant from photosynthesizing properly. High temperatures can scorch a plant while freezing temperatures can damage plant tissue. High winds can break branches and stems or cause a plant to transpire and lose water. Too little precipitation can stunt growth or cause plant tissues to dry out. Too much precipitation can lead to root rot.
Cultural factors such as humans planting, irrigating, fertilizing, or pruning plants can also have a large impact on plant health. Selecting the "right plant for the right place" goes a long way in ensuring a plant stays healthy. A proper irrigation schedule of deep, infrequent waterings will help establish a plant so it does not suffer drought or overwatering. Fertilizing based on recommendations from a soil test will allow for healthy growth. Excess fertilizer initiates a spurt of new growth, which may be more susceptible to pests and diseases, or can cause fertilizer burn. Proper pruning at the right time of year will help wounds close over and not leave the plant open for pathogens to enter.
By taking care to ensure abiotic and cultural factors support plant health, secondary problems of pests and pathogens can be greatly reduced. For more information about diagnosing problems in your garden, call the Ask A Master Gardener℠ Volunteer Helpline at (252) 482-6585. Article taken from the NC Extension Gardener Handbook.