Home Insteading With Cooperative Extension (Week 23)
Find this article at:
go.ncsu.edu/readext?726246
en Español

El inglés es el idioma de control de esta página. En la medida en que haya algún conflicto entre la traducción al inglés y la traducción, el inglés prevalece.

Al hacer clic en el enlace de traducción se activa un servicio de traducción gratuito para convertir la página al español. Al igual que con cualquier traducción por Internet, la conversión no es sensible al contexto y puede que no traduzca el texto en su significado original. NC State Extension no garantiza la exactitud del texto traducido. Por favor, tenga en cuenta que algunas aplicaciones y/o servicios pueden no funcionar como se espera cuando se traducen.

English is the controlling language of this page. To the extent there is any conflict between the English text and the translation, English controls.

Clicking on the translation link activates a free translation service to convert the page to Spanish. As with any Internet translation, the conversion is not context-sensitive and may not translate the text to its original meaning. NC State Extension does not guarantee the accuracy of the translated text. Please note that some applications and/or services may not function as expected when translated.

Collapse ▲
4-H at Home
Camaryn Byrum, 4-H Agent 
Solar Oven S'mores
In the following STEM activity, youth will learn how engineers harness the power of solar energy. Youth will use tin foil to convert energy from the sun into conductive heat to cook s'mores in a cardboard box. The tinfoil on the box lid concentrates the sun rays, reflecting them into the cooker. The s'mores are heating up because of the interaction between the sunlight and the tin foil. When the sunlight hits the tin foil, some of the energy is converted from light energy into heat energy. Because tin foil is a metal, it conducts heat easily and begins cooking the s'mores.
What You'll Need:
Small cardboard box with lid
Tinfoil
Graham crackers
Marshmallows
Chocolate
Plastic wrap
Sunlight (a very hot day)
Pencil/stick/wooden skewer
Instructions:
Find an empty cardboard box (with a lid). Cover the base and lid with tin foil all the way around. Depending on your box and your foil, you may need tape to securely fasten the foil. Be careful to make as few wrinkles as possible.
Place the box outside. Ideally, try to place the box on a concrete surface (driveway or sidewalk).
Orient the solar cooker directly towards the sun so that there's no shadow inside the cooker. The shadow of the cooker should be directly behind it.
Cover the opening of the box with plastic wrap. This will help keep the heat inside your solar box. Make sure that it is completely sealed.
Use a pencil, stick, or skewer to play with the position of the box lid. You want to be using the lid to direct more sun rays directly into the box.
Allow the box to "pre-heat" in this position for 30 minutes.
Once the box has finished preheating, place your graham crackers, with marshmallows on top, inside the box. Reposition the lid to catch the most sun rays. (Don't add chocolate, yet.)
Let the s'mores cook for approximately 30 minutes.
Once the marshmallows are soft, place the chocolate on top. Reposition the lid for 5 more minutes.
Finally, carefully remove the s'mores from the box. Enjoy!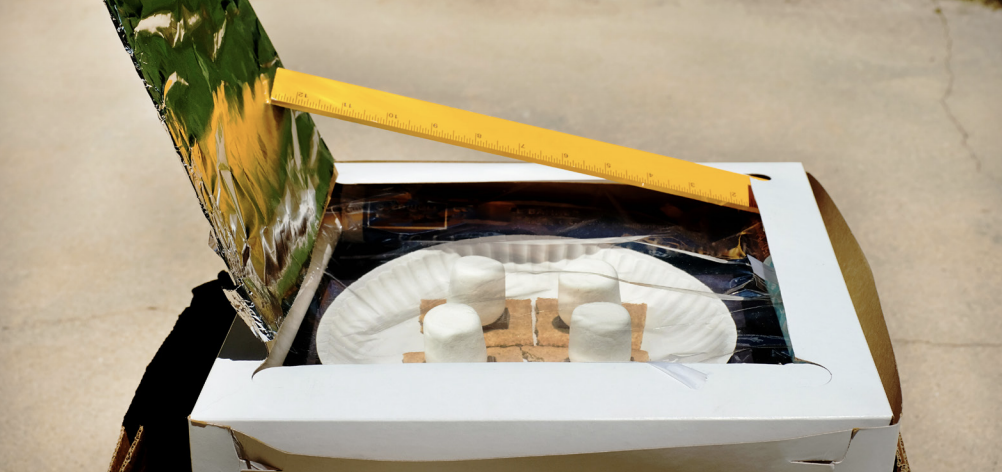 This activity and additional resources can be found on the 4-H website.
---
Family and Consumer Sciences at Home
Submitted By: Mary Morris, Family and Consumer Sciences Agent
Where Are The Canning Jars? Is It 1975 All Over Again?
Written By: Debbie Stroud, Area Specialized Agent, Consumer and Retail Food Safety
I hold cloudy memories of the 1970s. I remember that decade being aesthetically challenged, but what I most clearly remember is Barney Miller and mutton chops. I know weird, huh? Well it was a weird time, I was a young kid and I lived in NYC.
What I don't remember is the Great Canning Jar Lid Shortage of 1975, again I was a kid and no one in my family canned at the time so it wasn't really on my radar. It was on Mary Burgles' radar and she was more than a little peeved! She wrote a rant to the letter editor of the Racine Journal Times and received a reply from Ball Corporation. Canada was having its own Great Canadian Lid Shortage of 1975 as well, you can read about both toward the middle bottom of the linked page.
The gist of her letter was companies knew in 1974 they were going to need canning jars for 1975. Ms. Burgles had 500 jars to fill, her peas were blooming, she had a large garden and asparagus, rhubarb and the strawberries about ready. Not only were there no lids but the prices of vinegar, salt, sugar and spices were rising. Anything sounding familiar?
Well, it appears we may be having the Great Canning Jar Lid Shortage of 2020. Family and Consumer Sciences Extension Agents in many parts of North Carolina are finding difficulties in getting their hands on canning jars and/or lids, or they have clients who are calling them to say they are having difficulty getting what they need to can food.
Here is what I gathered after calling retailers, suppliers and distributers in North Carolina, Ohio and Pennsylvania. I inquired whether they are seeing increased demand or suffering from decreased supply?
Retailers are having more demand from customers. Distributers are having more demand from the retailers. A quote from one distributer "all of our orders are on backorder until December at this time. Suppliers are not able to keep up with the high demand, we get all of our supplies from Ball." And this from another distributer "Ball Corp has told their buyers they are short on workers, nobody wants to come to work so making just lids is not a focus. It will be at least until October before they start that line back up." It should be noted that Ball Corp is actually Newell: Ball left the home canning business in 1993 by spinning off a former subsidiary (Alltrista) into a free-standing company, which renamed itself Jarden Corporation. As part of the spin-off, Jarden is licensed to use the Ball registered trademark on its line of home-canning products. Today, the Ball brand mason jars and home canning supplies belongs to Newell Brands.
Other distributers I spoke to relayed not being able to give any estimates of when they could fulfill orders due to an increased demand on their supplier. They also noted that some suppliers had already completed manufacturing runs and had no plans to begin until next year. It also looks like requests are not only coming from those who sell to home food preservers but also from those who supply other industries. One example are candle makers who are unable to get the jars they typically use from their regular sources. Or even the supply having been scooped up by new entrepreneurs making and selling sanitizers sold in canning jars.
From the limited number of individuals I spoke with it looks like the difficulty in accessing canning supplies is due to both a high demand issue with more interest in home canning supplies (for food and other uses) and a supply issue with manufacturers navigating less employees to do the work
So,  what can home food preservers finding it difficult to source canning supplies do?
First,  do not skip steps when canning, continue to follow USDA recommended practices:
Use sound canning jars free of scratches, chips or nicks These defects can cause seal failure if on the rim (because a good seal cannot be formed) or jar failure because the weakened jar cannot hold up to the rigors of processing. Using true canning jars is the best practice but the National Center for Home Food Preservation has said "commercial glass pint- and quart-size mayonnaise or salad dressing jars may be used with new two-piece lids for canning acid foods(food that might be processed in a boiling water bath). However, one should expect more seal failures and jar breakage. These jars have a narrower sealing surface and are tempered less than Mason jars, and may be weakened by repeated contact with metal spoons or knives used in dispensing mayonnaise or salad dressing. Seemingly insignificant scratches in glass may cause cracking and breakage while processing jars in a canner. Mayonnaise-type jars are not recommended for use with foods to be processed in a pressure canner because of excessive jar breakage. Other commercial jars with mouths that cannot be sealed with two-piece canning lids are not recommended for use in canning any food at home."
Use two-piece metal canning lids, which is the only recommended canning lid. The band is reusable but the lid is not; it may only be used once for processing.
Use a pressure canner for low acid foods such as meat, poultry and vegetables or combinations of these foods. Boiling water canning is reserved for higher acid and acidified foods such as pickles, most fruit and sweet spreads. It should be noted that tomatoes should be acidified whether they are boiling water or pressure canned.
Alternatives to canning should also be considered if the needed supplies cannot be accessed. Home food preservers have options such as freezing, fermenting (which can buy some time to get supplies before the fermented food needs to be canned or refrigerated) or dehydrating foods.
When considering freezing also keep in mind that it might be a good idea to plan a backup source of energy just in case the power goes out. A reliable source of energy is necessary to keep frozen food safe.
I personally am looking forward to not struggling to find canning supplies. But until the canning supply can keep up with the demand, I will lean more on the other options that home food preservers have to safely keep their food for longer. Read more.
---
Horticulture at Home
Katy Shook, Area Horticulture Agent  
Pecan Problems 
Despite their native durability, pecan trees are notorious for pest problems. Below are some of the common problems and solutions for home gardeners:
Fall Webworms – Known for the large webs they create at the end of branches, fall webworms usually don't cause much harm. The damage is mainly aesthetic, but it can be an indication of a poor performing tree. Gardeners should rake and destroy all the debris that falls from the tree as this will help prevent next year's population. Try to break apart the bags with a strong blast of water or a broom to encourage bird predation. Even if the caterpillars strip every leaf off of the tree, it will likely recover. Take a soil sample to help determine nutrient requirements for the tree.
Twig Girdlers – These pests are rarely seen, but will cause a shock for gardeners when small branch tips suddenly scatter the lawn. The insect lays eggs in the tips of branches and cuts them away from the tree, hoping that fall leaves will drop and insulate offspring. Gardeners can prevent next year's population by raking and destroying all of the debris that falls from the tree. Twig girdlers will not kill the tree, but may spread to other nearby related species.
Pecan Weevils – These are pests of the pecan fruit. Adult weevils lay eggs into developing fruit, and after the fruit drops, the weevil larvae exit the shell and pupate in the garden soil. Gardeners are left with poorly developed fruit, easily diagnosable by exit holes in the shells. To prevent this pest, gardeners should rake and destroy all of the debris, especially the damaged fruit. There is also the option to treat the nearby ground with a labeled insecticide in mid August thru mid September; follow all label directions.
Stink Bugs – Nothing is more discouraging than to crack open an otherwise healthy looking pecan and find the fruit riddled with bitter spots. This damage is caused by stink bugs feeding on fruit early in the summer as it ripens. Controlling stink bugs is not easy, but because they overwinter in fall and winter debris, gardeners can rake and destroy old leaves to help remove the pest.
Scab – This is a major disease pest of pecans in our area. Black spots on the husk, seed, and "meat" help identify the problem. Fruit may abort early from the tree, and is usually soft and/or poorly developed. Unfortunately, weather patterns encourage this disease and we've been in a favorable cycle of development for several years. Because it is nearly impossible to treat a mature pecan tree, gardeners should practice strict sanitation to help get rid of the problem. Rake and destroy all of the debris that falls from the tree. Use a riding lawn mower to help bag the debris; mulching lawnmowers are not effective. Any debris that is left around the base of the tree may serve as an infection source next year.
Because of their size, most pecan pest control is in the form of sanitation. It's always a good idea to rake and destroy the debris from around pest-infected trees. However, it is not necessary if the trees are otherwise healthy. Gardeners can find more information about growing pecans in this publication or call the Ask A Master Gardener Helpline at (252) 482-6585.